Bespoke Shaker Style Pine Doors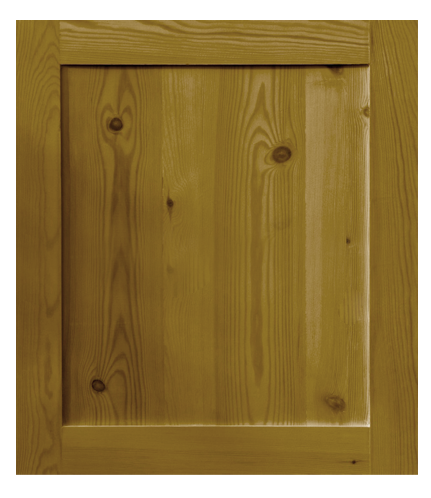 Bespoke pine doors for kitchens and cupboards
The Shaker style cupboard door is made from a frame of  Grade A pine,nominally 70mm wide and 22 mm thick.
The frame has scribe  joints, and when glued and cramped up,the joint has greater strength than the wood itself. The inner part of the frame has straight simple lines. The inner part if the frame has a 6mm groove to accept a flat panel.
The panel is made from individual lengths of pine 12mm thick and 150mm wide glued together rebated at the back to slot inside the panel frame. The panels are cut to size so that they are a good fit and because of the rebating,they combine with the frame to add extra strength the the door. The doors are individually assembled then placed in a jig to ensure that they are square.Ater being glued and cramped the doors are  sanded when the joints are set.
The maximum size door we make is normally 2000mm high.We recommend that doors larger than 1200mm high are made in a 27mm thick frame as this reduces significantly the possibility of "warp"
To find the price of your door, e.g 567mm H X 354mm W, round up to the next Larger size (600mm H X 400mm W.=  £38.00)
| Height/Width | 300mm (12″) | 400mm (16″) | 500mm (20″) | 600mm (24″) | 700mm (27″) |
| --- | --- | --- | --- | --- | --- |
| 300mm (12″) | £37.00 | £39.00 | £41.00 | £43.00 | £46.00 |
| 400mm (16″) | £39.00 | £41.00 | £45.00 | £47.00 | £51.00 |
| 500mm (20″) | £42.00 | £45.00 | £48.00 | £51.00 | £55.00 |
| 600mm (24″) | £44.00 | £47.00 | £51.00 | £55.00 | £59.00 |
| 700mm (27″) | £48.00 | £52.00 | £56.00 | £60.00 | £65.00 |
| 800mm (31″) | £52.00 | £55.00 | £58.00 | £64.00 | £68.00 |
| 900mm (36″) | £55.00 | £57.00 | £60.00 | £66.00 | £72.00 |
| 1000mm (39″) | £58.00 | £61.00 | £66.00 | £73.00 | £78.00 |
| 1100mm (43″) | £61.00 | £67.00 | £73.00 | £79.00 | £84.00 |
| 1200mm (47″) | £69.00 | £74.00 | £78.00 | £86.00 | £90.00 |
| 1300mm (51″) | £75.00 | £79.00 | £84.00 | £89.00 | £95.00 |
| 1400mm (55″) | £79.00 | £8400 | £87.00 | £91.00 | £96.00 |
| 1500mm (59″) | £84.00 | £87.00 | £91.00 | £95.00 | £104.00 |
| 1600mm (63″) | £88.00 | £91.00 | £95.00 | £101.00 | £109.00 |
| `1700mm (67″) | £91.00 | £95.00 | £101.00 | £106.00 | £112.00 |
| 1800mm (71″) | £95.00 | £98.00 | £105.00 | £109.00 | £118.00 |